Artist Statement
"God created this great universe for us to enjoy... but , it is a passing thing. We as Artists have the pleasure and responsibility of preserving this beauty. As a rose withers and dies and a tree looses it leaves...We may capture their Moment, to enjoy for years to come."
From the thoughts of Gus Baker - Tennessee Artist and Teacher at UTN
It's meaningful thoughts like this that keep me painting.
Jean D Dortch
Inspired by her desire to preserve the wonder, harmony, and peace of the earth's beauty, Jean D. Dortch is a plein air and studio artist based in Nashville, Tennessee.
Biographical Information
Jean D Dortch
Jean began her formal art training in high school at St. Cecilia Academy in Nashville and continued with an art scholarship in New Orleans at St. Mary's Dominican College. Upon returning to Nashville she studied at the Watkins Institute while working in advertising and as a retail display artist.
Jean is married and is the mother of 8 children, grandmother to 24 and has three great grandchildren. In recent years Jean joined the Cheekwood Garden and Art Museum classes and The Chestnut Group "Plein Air Painters for the Land." Jean's paintings hang in homes and offices throughout the United States and Europe. She has studied with such renowned artist as Landscape Plein Air Painters - Ken Auster, Ralph Olberg, Skip Whitcomb, Peggi Kroll Roberts, and Jason Saunders. Jean has also studied under Still Life Artist - Heidi Moran and Palette Knife Specialist - Urania Christy Tarbet.
Jean's oil on canvas works depicting landscapes, portraits, and still lifes have been exhibited most recently at Amsterdam-Whitney Gallery in New York, Art and Invention Gallery of Nashville, and The Von Leibig Art Center in Naples, Florida. Many of her works are motivated by scenes from her travels throughout Europe and United States. In 2006 Ms. Dortch received the distinct honor of being inducted into the National Museum of Women in the Arts in Washington, D.C.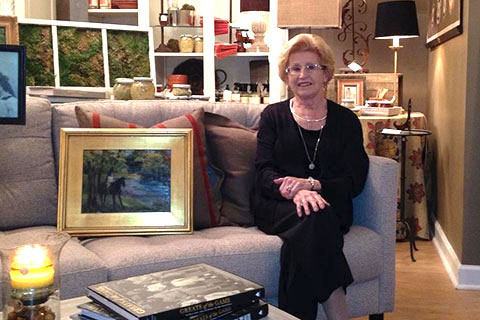 Jean at a recent original paintings showing with Elizabeth Castleman
Jean D Dortch Blog
For more information join us on the blog - http://www.jeandortch.blogspot.com
and
Saint
Mary's
Bookstore