Events and News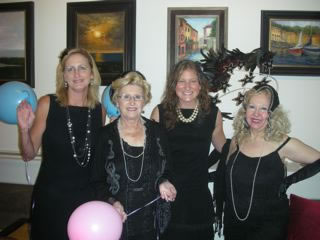 All of the artworks on this web site are oil on canvas paintings. Most are framed, but may be purchased unframed if desired. The high quality, creative paintings of Jean Dortch are exhibited in galleries throughout the United States. Below are some samples are archived works. The links on the left will take you to available works.
Representation and Shows:
The Amsterdam Whitney Gallery
New York, NY
Artist Haven Gallery
Ft Lauderdale, FL
News:
Summer and Fall 2012
I will be exhibiting in the St. Cecilia Alumnae Art Show opening on Nov. 15-16
Below, I am at a recent original paintings showing with Elizabeth Castleman.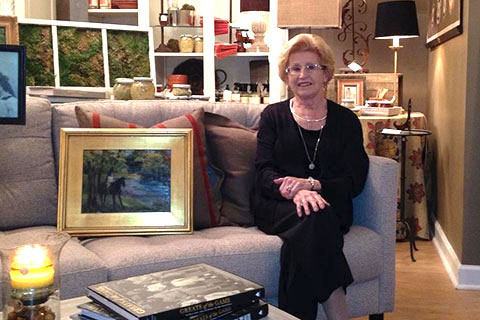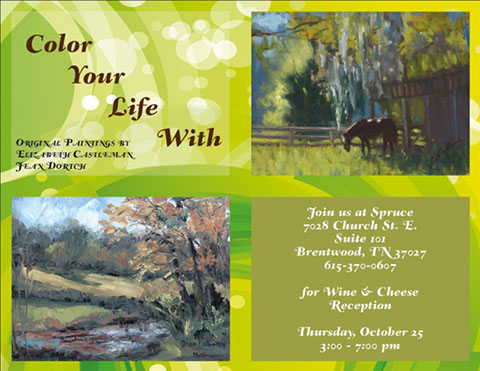 Oct. 5-8 I participated in the Radnor Lake, Love the Lake Art Show
Winter Spring 2012

This Fall in Nashville was beautiful. I took a Workshop with C.W. Mundy...a fantastic experience. We painted Lieper's Fork, Cheekwood, Belle Meade Mansion and Radnor Lake...some of Nashville's most beautiful spots. A great learning experience!
Winter Painting in Beautiful Naples found me in a "Paint the Beach" group with Douglas David. Learned a new Topical Pallette. I'm painting on Thursday's with the Outdoor Painters of the Von Liebiig Art Museum
On April 21, 2012 I will have a Show at the Norton Center in Hapeville, Georgia...on the South side of Atlanta. Hope you can make it!
Summer and Fall 2011
For Nashville, the summer of 2011 was overwhelmingly hot. I painted outdoors (in the heat) at Cheekwood Botanical Gardens and Belle Meade Mansion. I also took the opportunity to paint from photographs from inside my air-conditioned studio. In August, I showed a few of my paintings at the Tomato Fest in east Nashville and sold - what fun!
In October, I had the pleasure of painting in a wonderful plein air workshop with renowned impressionist painter, C.W. Mundy. Not only is he a great artist, he is a great teacher and I learned a few techniques that I'm anxious to try in my paintings.
Now that the summer heat has past, I've come back to Naples, FL where I will paint with the Von Liebig Outdoor Painters and some studio events through the winter.
Spring 2011
On May 15, the Chestnut Group Celebrated their 10th Year of being Nashville's first Plein Air Group. since I was in the first 10 to start in this membership I really enjoyed seeing all the old pictures and posters and news clips from our 10 years. We have grown from 10 to approx. 120 members. We celebrated with a Paintout and Party at Glen Leven Plantation... a favorite site and the place where the Blue Moon Celebration is held every October.
I also painted in the First Annual Plein Air Paintout for the Local Color Gallery. About 20 of us Artists painted in locations from Centennial to Hillsboro Village to Music Row. It was a perfect day and we could start from sun-up till 11:00 o'clock. Then the paintings were displayed in the parking lot of Local Color till 2:00.